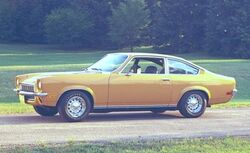 The General Motors H platform or H-body is an automobile platform designation used for the 1971–1980 model year rear wheel drive line of subcompact cars. The fourth character in the Vehicle Identification Number (VIN) for an H-body car is "H".
H-bodies were available as two-door Notchback, Hatchback, Wagon, and Sedan delivery body-styles, and have 4, 6, and 8-cylinder GM engines, solid rear axle, and unibody construction. The platform was introduced with the 1971 Chevrolet Vega. The Pontiac Astre, Chevrolet Monza, Buick Skyhawk, and Oldsmobile Starfire were introduced for the 1975 model year, while the Pontiac Sunbird was introduced a year later as a 1976 model.
The Vega engine is a 140 CID aluminum-block L4. A 1972 GM prototype had an all-aluminum 302 small-block V8 but this was not approved. Chevrolet hand-built 5000 122 CID L4 Cosworth Twin-Cam engines for the 1975 Cosworth Twin-Cam Vega. Only 3508 1975-76 cars were built. The remaining engines were scrapped. The GM-rotary Wankel engine was destined for the 1975 Monza 2+2 but the engine was canceled.
The Vega and the Astre were discontinued at the end of the 1977 model year. The Monza, Sunbird, Skyhawk, and Starfire continued through 1980. The rear-wheel drive (RWD) H-body Monza, Sunbird, Skyhawk, and Starfire were replaced in the spring of 1981 with a new front-wheel drive front-wheel drive (FWD) line-up, the GM J-car models: Chevrolet Cavalier, Oldsmobile Firenza, Buick Skyhawk, and the Pontiac J2000 introduced as 1982 models. Because the forthcoming J-body cars were to be sold as 1982 models, there was a long production run of 1980 H-body models in order to provide sufficient inventory to carry dealers until the spring of 1981.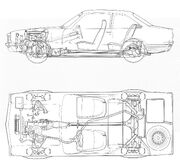 Years
Wheelbase
Model
Previous platform
Next platform
1971–1977
97.0 in (2464 mm)
Chevrolet Vega
1973–1977
Pontiac Astre
1975–1980
Chevrolet Monza
GM J platform
1976–1980
Pontiac Sunbird
GM J platform
1975–1980
Buick Skyhawk
GM J platform
1975–1980
Oldsmobile Starfire
GM J platform
See Other