Millionth Vega
1973 Chevrolet Vega GT - Millionth Vega
Manufacturer
Chevrolet Motor Division
Parent company
General Motors Corporation
Production
1973
Model year(s)
1973
Assembly
Lordstown Assembly,
Lordstown, Ohio-United States
Sainte-Therese Assembly-Quebec, Canada
Class
Subcompact
Body style(s)
2-door hatchback
Layout
FR layout
Platform
GM H platform (RWD)
Engine(s)
140 CID 2.3 L OHC 2bbl I4
Transmission(s)
3-speed manual
4-speed manual
Turbo-Hydramatic 3 spd. auto.
Wheelbase
97.0 in (2,464 mm)
Length
172.3 in (4,376 mm)
Width
65.4 in (1,661 mm)
Height
51 in (1,295 mm)
Curb weight
2,462
Designer
GM and Chevrolet Design staffs
Ed Cole-Chief Engineer
Bill Mitchell-Chief Stylist
The Millionth Vega is a subcompact, four-passenger automobile produced by the Chevrolet division of General Motors in the 1973 model year. The one millionth Vega was produced May 17, 1973. Chevrolet chose a GT Hatchback coupe featuring a bright orange exterior with white sport stripes, a neutral custom vinyl interior featuring exclusive vinyl door panels, orange accent color carpeting, power steering and Millionth Vega door handle accents.
Press Release
[
]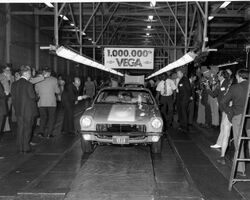 News from Public Relations Department Chevrolet Motor Division For Release: Thursday, May 17, 1973.
Chevrolet Motor Division has added another page to its production record book with the assembly of the division's 1,000,000th Vega.
The milestone car, a bright orange GT hatchback coupe, came off the assembly line at the Lordstown. Ohio plant today amid the bright lights of television cameras and photographer's lights.
F. James McDonald, a General Motors vice president and Chevrolet general manager, hailed the event as one of the highlights in the division's 62-year history.
"It took Chevrolet nearly 12 years to build its first million passenger cars," McDonald said. "This latest milestone was achieved in less than three years, (The first Vega was built June 26, 1970.)
McDonald praised the Chevrolet dealer organization at the milestone celebration as well as the division's own employees, General Motors Assembly Division workers and the hundreds of of supplier companies which provided parts.
"Our success is due to all of these men and women working together as a team to provide our customers with an outstanding car and good service", he said.
Except for the milestone hoopla, it was business as usual as the plant continued on its schedule of building 1,600 Vegas daily.
In the United States, the Lordstown complex is the lone assembly plant for the Vega. However, a total of more than 44,000 hourly-production employees in 15 Chevrolet manufacturing plants provide parts for the Vega.
McDonald said Vega sales were at an all-time high. "Sales in both March and April topped the 40,000 mark...the first time they have ever done that in any single month," McDonald asserted. "This surge in Vega momentum can be attributed in part to the addition of the wood-paneled estate wagon as well as new luxury decor options. We are confident that 1973 Vega sales will top the 430,000 mark," McDonald said.
"In order to keep with the growing demand a second shift is being added to the General Motors plant at St, Therese in Canada."
The 1,000,000 Vega has a orange orange paint exterior, a light vinyl custom interior, white stripping, and a special decal in the door handles.
The milestone unit will be shipped to Detroit for display in the General Motors building.
ZM5 Option - Millionth Vega
[
]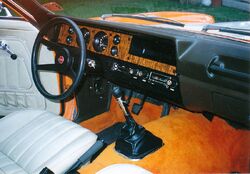 Chevrolet produced a special limited edition Millionth Vega replicating the milestone car. 6500 were built at the rate of 10 cars per hour from May through July 1973 (10% of total production for 3 months).
Millionth Vega - ZM5 option $497.00 includes-
GT Package
Power Steering
Bright Orange Exterior (code 86)
White Sport Stripes
Light Neutral Custom Vinyl Interior w/exclusive Vinyl Door Panels
Accent-Color Carpeting - Orange
Millionth Vega Door Handle Accents.
Chevy merchandising issued a colorful dealer folder showing the exterior and interior of car and highlighting its exclusive color combination.
Notes
[
]
1973 Chevrolet Passenger Option Shipments Report shows 6,580 Vegas built with the ZM5 option. Regular production options were available not in conflict with the ZM5 package - (any transmission, a/c, etc.) Bright Orange exterior color (code 86) was offered as a regular production Vega color (code 69) in 1974. Vinyl Door Panels became part of the Custom Interior option from 1974 on.
1973 Vega
[
]
The 1973 Vega had over 300 changes including new exterior and interior colors and new standard interior trim. The front and rear script nameplates — "Chevrolet Vega 2300" were changed to block letters — "VEGA by Chevrolet". The front bumper, on stronger brackets was extended 3 inches with a steel body-color filler panel — to meet the 1973 5-mph front bumper standards. The GT L-11 engine featured a new Holley staged two-barrel carburetor. Both Vega engines had revised emmission controls. US-built Saginaw manual transmissions and a new shift linkage replaced the Opel-built units. The Powerglide was discontinued, leaving the Turbo-hydramatic the sole automatic transmission offering. New options included BR70-13 white stripe steel belted radial tires, and body side molding with black rubber insert.
Motor Trend awarded the Vega GT 1973 Car of the Year in the Economy Class.
MT: "The best version of the Vega came out on top matched against the best versions of its competition."..."The Vega was judged solid, warm and comfortable, with a good finish." Pleasing the American car buyer is a delicate task. Economy really means economy with an illusion of luxury. This time Chevrolet won the guessing game."
Car and Driver readers voted the 1973 Vega "Best Economy Sedan" in "C&D's Annual Reader's Choice Poll."
Reviews
[
]
Hot Rod magazine December 1973 said: "On May 17th, 1973, the one-millionth Vega trundled down the ways and out the door of Chevy's Lordstown plant. Chevrolet was so smitten with the car that they've built 6143 "Millionth Vegas." The series is basically a styled-up Vega GT with some nice interior touches... It comes with bright orange paint, white stripping, a "Millionth Vega" decal in the door handle, and power steering. They'll probably sell a million of 'em."
Motor Trend Classic in the Fall 2010 issue's "Loving Look Back" comparison — 1973 Vega GT, 1972 Pinto Runabout and 1971 Gremlin X, Frank Markus, Technical Director of Motor Trend said, "GM spent the most money ($200 million) readying its high-tech XP-887 mini, and its gestation was fraught with intrigue." "Chevrolet spun the Vega as a more American, upscale car. And let's face it, the car looked hot. So can you blame us for falling hook, line, and sinker for the Vega and naming it 1971's Car of the Year?" "Our 1973 Vega GT is a rare Millionth Vega edition, of which 6500 were built (one for each dealer); all were painted orange with white stripes. It was first titled in 1996, with 80 miles. The two registered owners have accumulated just under 6000 miles, and it's spent only one night outdoors." "Performance seems on par with the Pinto's, despite the extra 200 pounds, and the power steering is nicely weighted, requiring far fewer turns than the Pinto's." "Settling into the Vega's swankier interior, with its low bucket seat, small diameter steering wheel, and rally gauge pack, I fire up the the big four and notch the the similarly precise Saginaw four-speed into gear." The ride on factory-original bias-ply tires is similarly abrupt, but the all-coil suspension feels a bit more sophisticated and the bodywork noticeably narrower." "After a few gentle miles, I begin to understand how this car won its awards and comparison tests." "Well-maintained examples are great looking, nice-driving, economical classics—like Baltic Ave. with a Hotel, the best ones can be had for $10K or less." He closes the article agreeing with MT's initial assessment of the Vega and how it fared compared to its domestic competition; he wrote, "Emotionally, Jim Brokaw summed it up in January 1972: Gremlin has power, but Pinto has the price, and a much quieter ride. Which car is best? Vega."
Hemmings Classic Car March 2014 said, "Chevrolutionary!"—The much-maligned Chevrolet Vega was ahead of its time, advancing new technology in an industry that desperately needed it in the 1970s.—"Small, attractive, economical to buy and efficient to own, the sporty and thrifty little car marked big changes at GM, upending nearly 60 years of the way Chevrolet did business. From its revolutionary die-cast aluminum engine block, to its small dimensions, to its innovative manufacturing and distribution techniques, the Vega screamed "New," though its design was otherwise relatively conventional." "Given the many jabs taken at the Vega in the ensuing decades since it went out of production, it takes a special kind of person to embrace the Vega. Fortunately, Robert Spinello is not your average collector. His garage includes not one but two, ultra-low mileage, limited-edition Vegas, both unrestored originals, and so pristine that the Monroney stickers have never been removed from the windows." "Millionth Edition Vega's striking color combination of Bright Orange paint with a wide white stripe down the middle is mimicked on the flashy interior, complete with orange carpet. Who says the Seventies had no style?
Recognition
[
]
Robert Spinello's 1973 Chevy Vega GT Millionth Vega was recognized at the 2010 New England Concours D' Elegance presented by Hemmings Motor News July 17th and 18th in Vermont. The Saturday event, the Cruise-in Spectalcular was a non-judged show with winners selected by The Hemmings Motor News Staff—The Vega won "Favorite Original."
On Sunday, by invitation only was The Fourth Annual Concours D' Elegance. The Vega, all-original with 6k miles, was postioned in Class O - Preservation which had the largest and most diverse assembly of vehicles, ranging from a 1935 Packard to a 1975 Porsche—Class O - Preservation (as listed in program) 1935 Packard 120 Club sedan, 1947 De Soto Diplomat, 1963 Corvair Monza sedan, 1965 Cadillac convertible, 1965 Citroen 2CV6, 1966 Mercedes-Benz 220 D, 1969 AMC AMX California 500, 1969 Chevrolet Impala hardtop, 1969 Toyota Corona coupe, 1971 Buick GS Stage I, 1971 Cadillac Eldorado, 1971 Chevrolet Caprice sedan, 1973 Chevrolet Vega, 1975 Chevrolet Cosworth Vega, 1975 Porsche 914—The 1973 Vega GT won "Best Preservation." Hemmings Editor Richard Lentinello said, "It is encouraged that the car was driven to the event hundreds of miles, and commendable the car has won Favorite Original and Best Preservation."
Robert Spinello's Vega GT Millionth Vega was one of four winners in the Car Domain/Castrol EDGE "Unlock Your Performance" contest. The Vega was selected from over a half-million rides on the CarDomain website. Robert collected a $500 cash prize, and a case of Castrol Edge synthetic motor oil. A 6-minute video was released Oct. 20, 2010 with a review saying, "VegaVairBob's pristine classic is the second winner of the "Unlock Your Performance Contest." "In May 1973, Chevrolet produced the one millionth Vega. A million built in only three model years! Chevrolet chose a GT Coupe featuring a bright orange exterior with white sport stripes, a neutral custom vinyl interior including exclusive vinyl door panels, orange accent color carpeting, and Millionth Vega door handle accents to showcase the milestone car."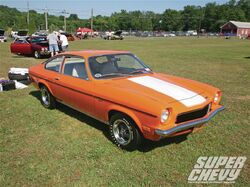 Robert Spinello's 1973 Chevy Vega GT Millionth Vega was recognized at the 2011 Super Chevy Show, Maple Grove Raceway, Mohnton, PA. The car won "Open Stock Winner" & "Best Open Stock" awards.
Super Chevy July 2011 "Super Chevy Show At Maple Grove—The Hills Are Alive With The Sound Of Chevys" said, "An interesting oddity in the show-car field was Robert Spinello's 7,000-original-mile '73 Vega GT. He's had it for nine years and is only the second owner of the special-edition Bow Tie. When he bought it, there were only 3,800 miles on the clock."
Chevy Hardcore July 29, 2011 "Walking Tour Of Maple Grove Raceway Chevy Show" said, "The 1970s surely were a tough time to be a car guy or gal – this was true throughout the world, not just in Detroit. It was a long road to get back on track with horsepower, but that doesn't mean those cars along the way aren't interesting. Take this Vega for example. In 1973, Chevrolet produced the millionth Vega. To commemorate this, an orange GT was given to each dealer for sale - just over 6000 in total."
See also
[
]
External links
[
]