Pontiac Sunbird
1977 Pontiac Sunbird Formula
Manufacturer
Pontiac Motor Division
Parent company
General Motors Corporation
Production
1976–1980
Model year(s)
1976–1980
Assembly
Lordstown Assembly,
Lordstown, Ohio-United States=
South Gate, California, United States
Sainte-Thérèse Assembly]], Canada]]
Ramos Arizpe, Mexico
Class
Subcompact
Body style(s)
2-door coupe
2-door hatchback
2-door station wagon
Layout
FR layout
Platform
GM H platform (RWD)
Engine(s)
140 cu in L4
151 cu in L4
231 cu in V6
305 cu in V8 ('79)
Transmission(s)
4-speed manual
5-speed manual w/overdrive ('76 option)
Wheelbase
97.0 in (2,464 mm)
Length
176.4 in (4,481 mm)
Width
65.4 in (1,661 mm)
Height
50.0 in (1,270 mm)
Curb weight
2,760 lb (1,250 kg)
Designer
Chevrolet Design Staff
The Pontiac Sunbird is a subcompact, four-passenger automobile introduced in September 1975, and produced for the 1976 through 1980 model years. The first-generation Sunbird is derived from the Chevrolet Vega sharing the Vega's wheelbase and width. Built on the H-body platform, its intended competitors were other small sporty two-door vehicles including the Toyota Celica, Datsun 200SX, Ford Capri, and the Ford Mustang II.
Overview
[
]
The Sunbird has a 97.0 inch wheelbase and a 65.4 width. The first generation Sunbird is a rear-wheel-drive vehicle with a live rear axle design. The standard engine was the Vega aluminum-block 140 CID inline-4. Equipped with a single-barrel carburetor, it generates a peak power output of 78-hp at 4200 rpm. the standard transmission was a 4-speed manual, with a 5-speed manual and 3-speed automatic transmission options. This engine was also available with a 2-barrel carburetor that increased peak power to 87-hp at 4400 rpm, as well as Buick's 3.8 L (231 cid) V6 engine rated at 110-hp at 4000 rpm. The front suspension is short and long control arms with coil springs, and anti-roll bar; the rear suspension is a torque-arm design with coil springs and an anti-roll bar. Variable-ratio power steering was standard of a recirculating ball type. The brake system features front disc brakes with vented rotors, and rear drum brakes. Power-assist was standard.
Model year changes
[
]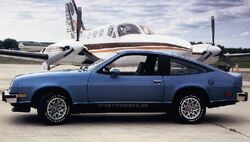 In 1977 the hatchback body-style was added. It is noted for having a resemblance to the Ferrari 365 GTC/4. All Sunbirds had a new standard engine: Pontiac's 151 CID "Iron Duke" inline four-cylinder engine using a 2-barrel Holley carburetor and generating 90-hp at 4400 rpm. A Formula option was available on coupe and hatchback. It includes the handling package, a chrome valve cover, three-piece spoiler, T/A steering wheel, and special body decals.
In the 1978 model year the discontinued Vega/Astre wagon body style was added to the Sunbird line which continued to use the same front fascia as the Astre with Sunbird badging. The 2.3 L engine was simultaneously discontinued.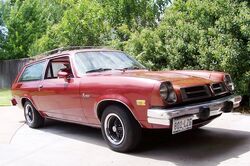 For the 1979 model year, the Chevrolet's 5.0 L (305 cid) V8 engine was made optional in the notchback and hatchback, while the Astre based hatchback was discontinued. The Sunbird Safari wagon continued for its final year with a revised vertical styled grill.
1980 was the final production year of the H-bodied Sunbird. By this time the wagon body style and the optional V8 engine were discontinued. The year featured an unusually long production run in order to provide sufficient inventory to carry dealers into the 1981 model year, in anticipation of the Sunbird's replacement.
A total 479,967 H-body Sunbirds were produced in five model years.
See also
[
]
External links
[
]